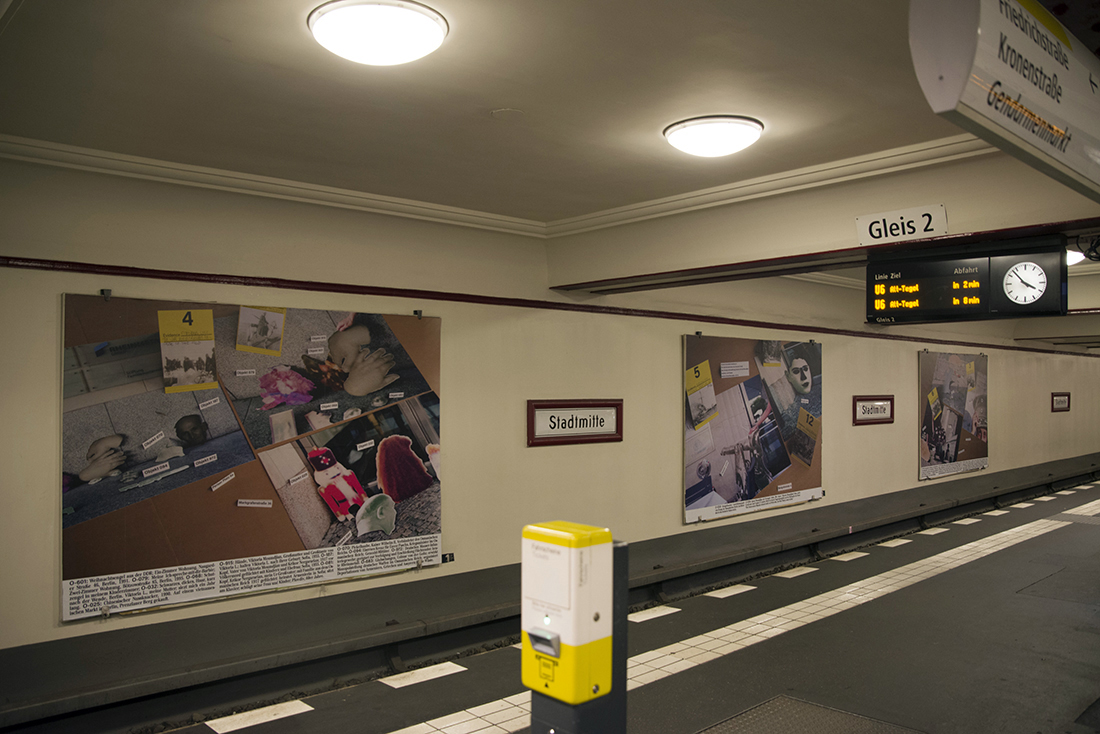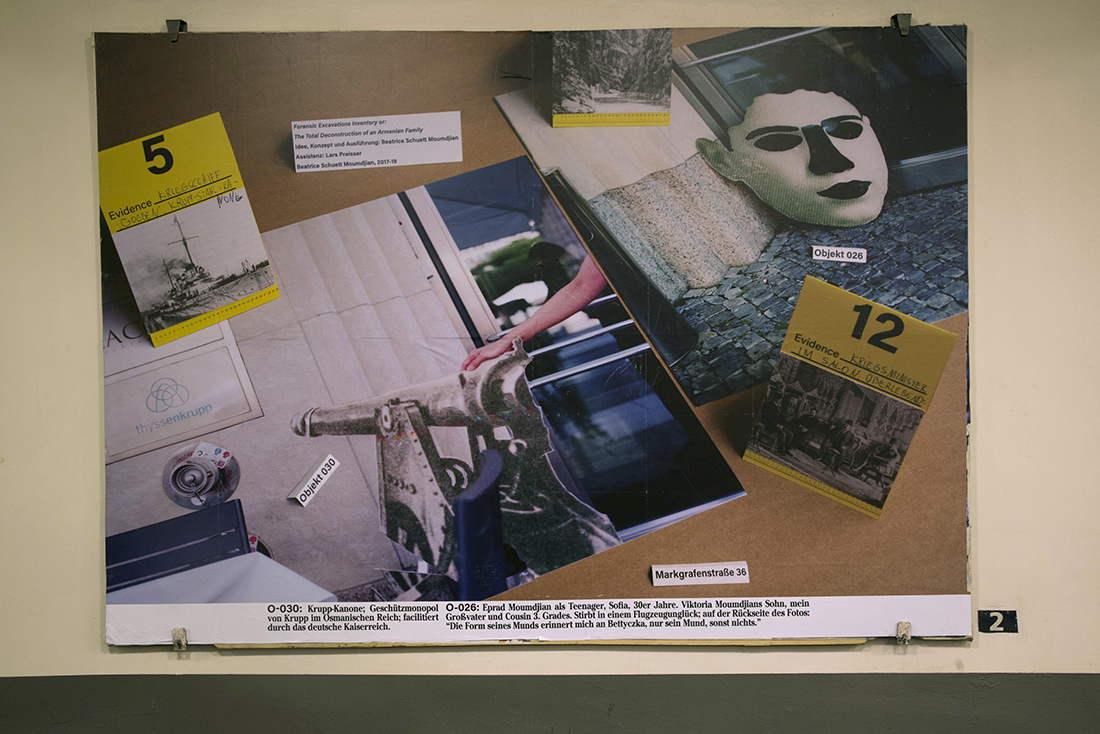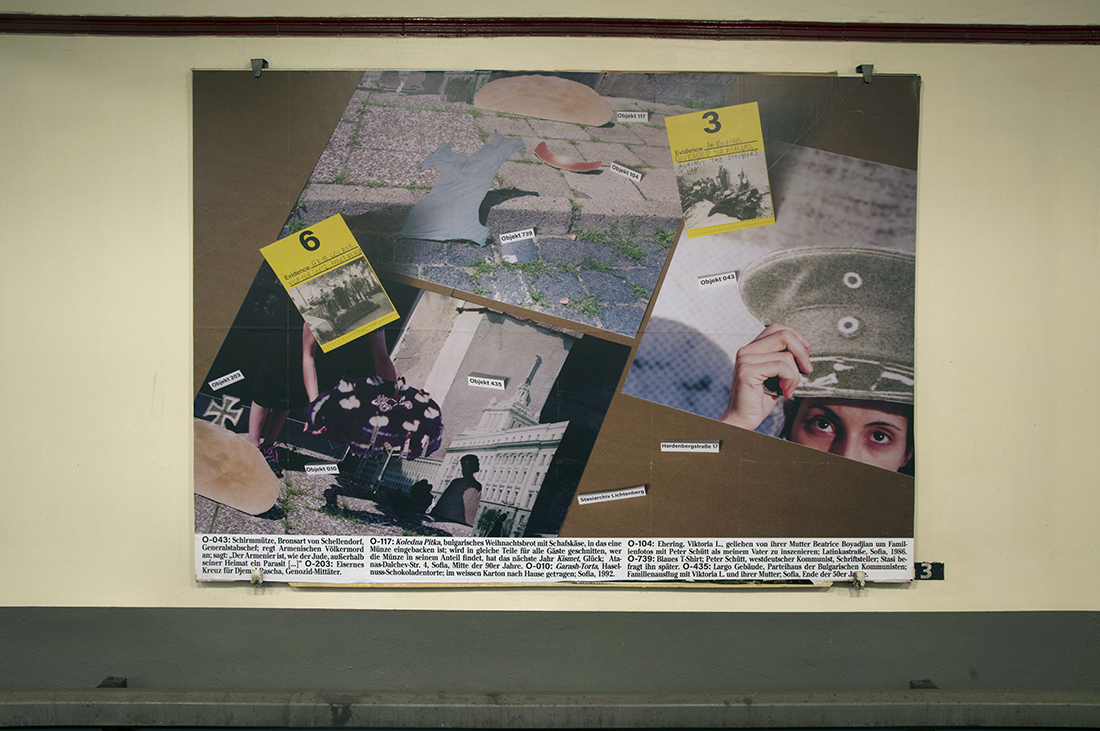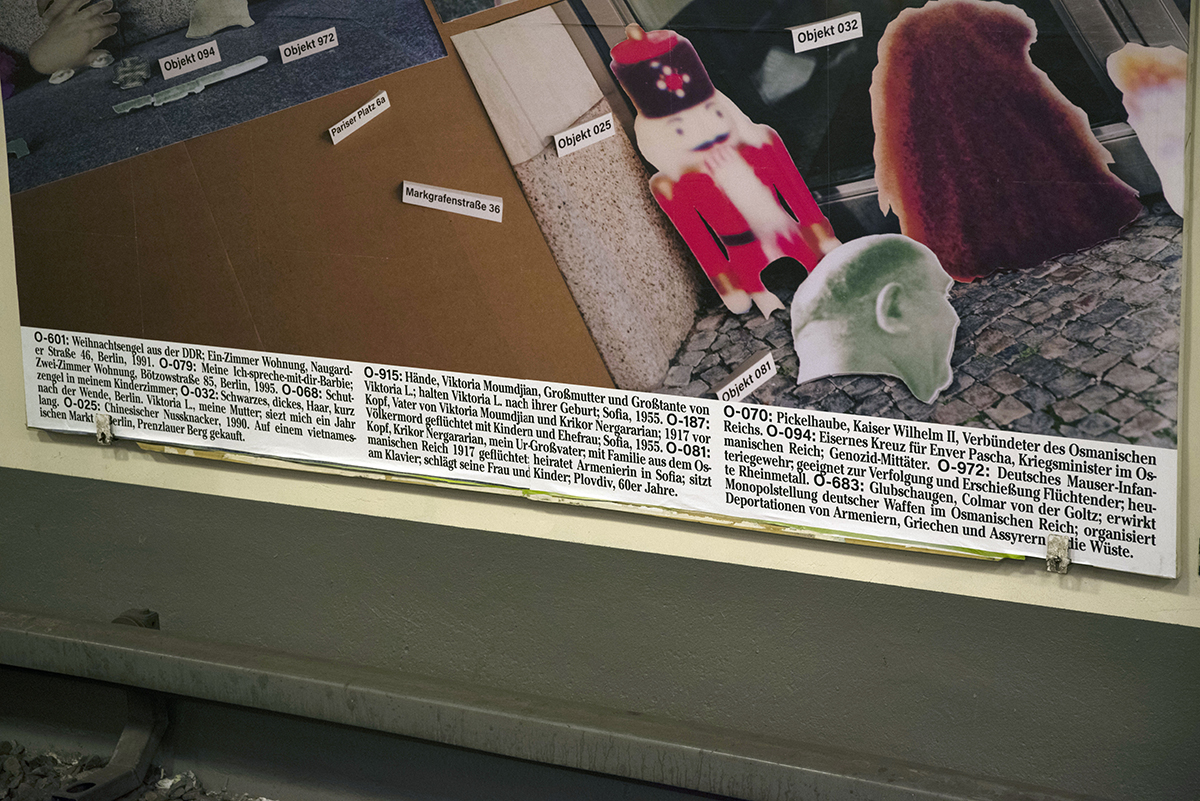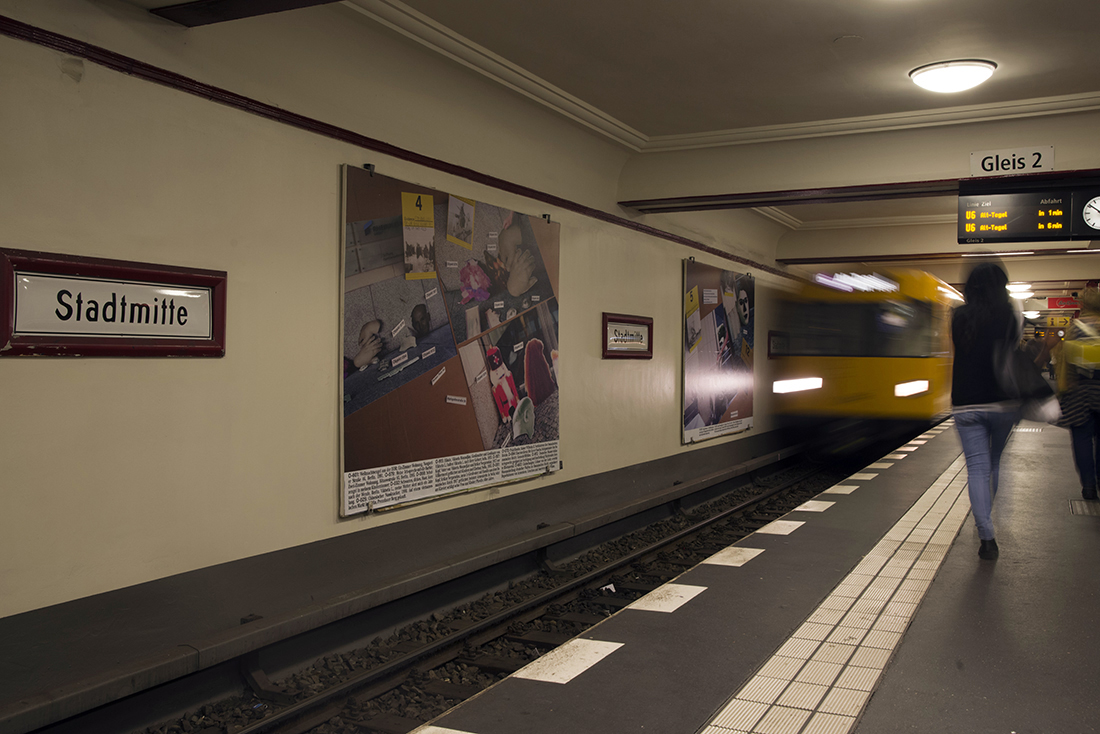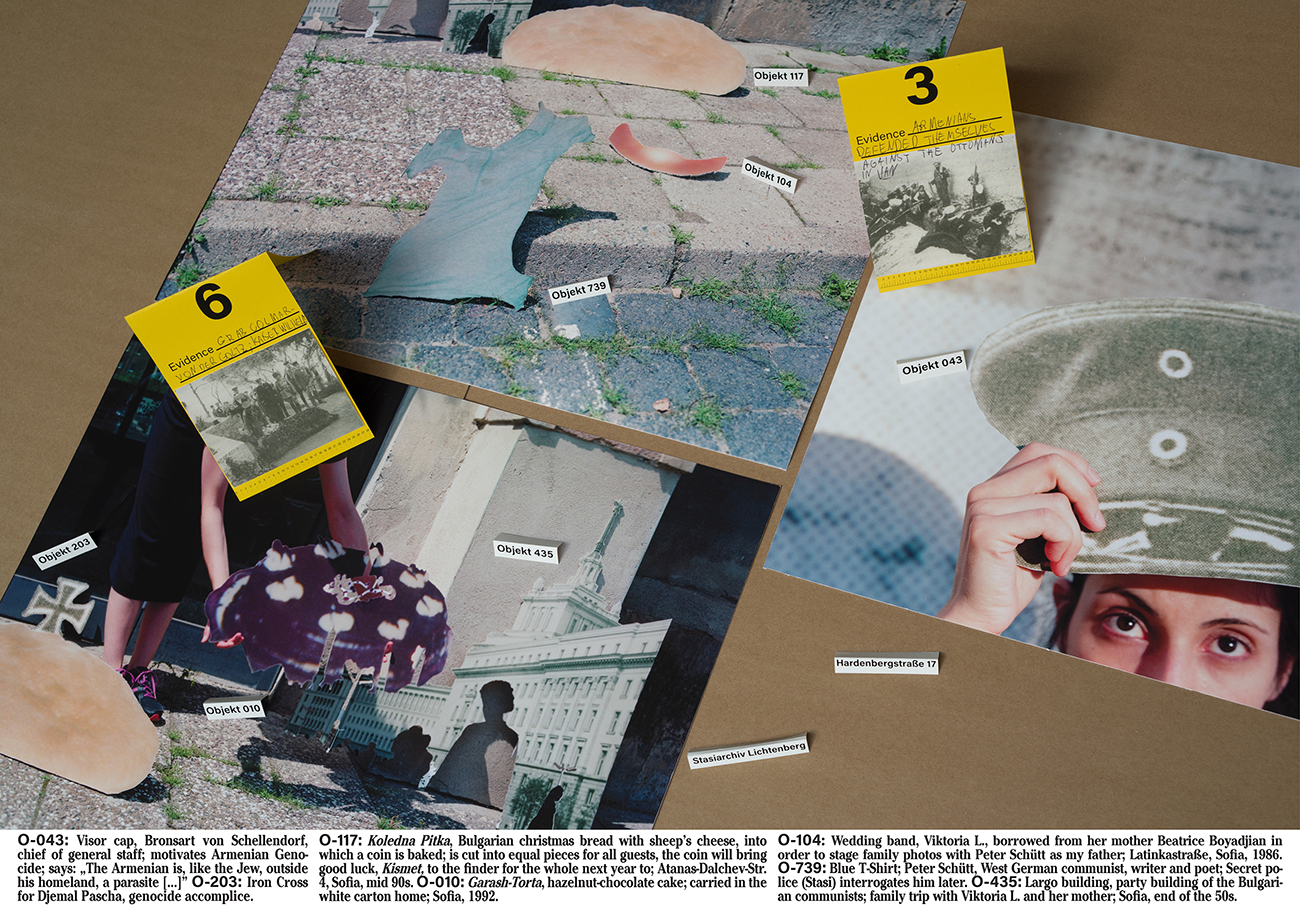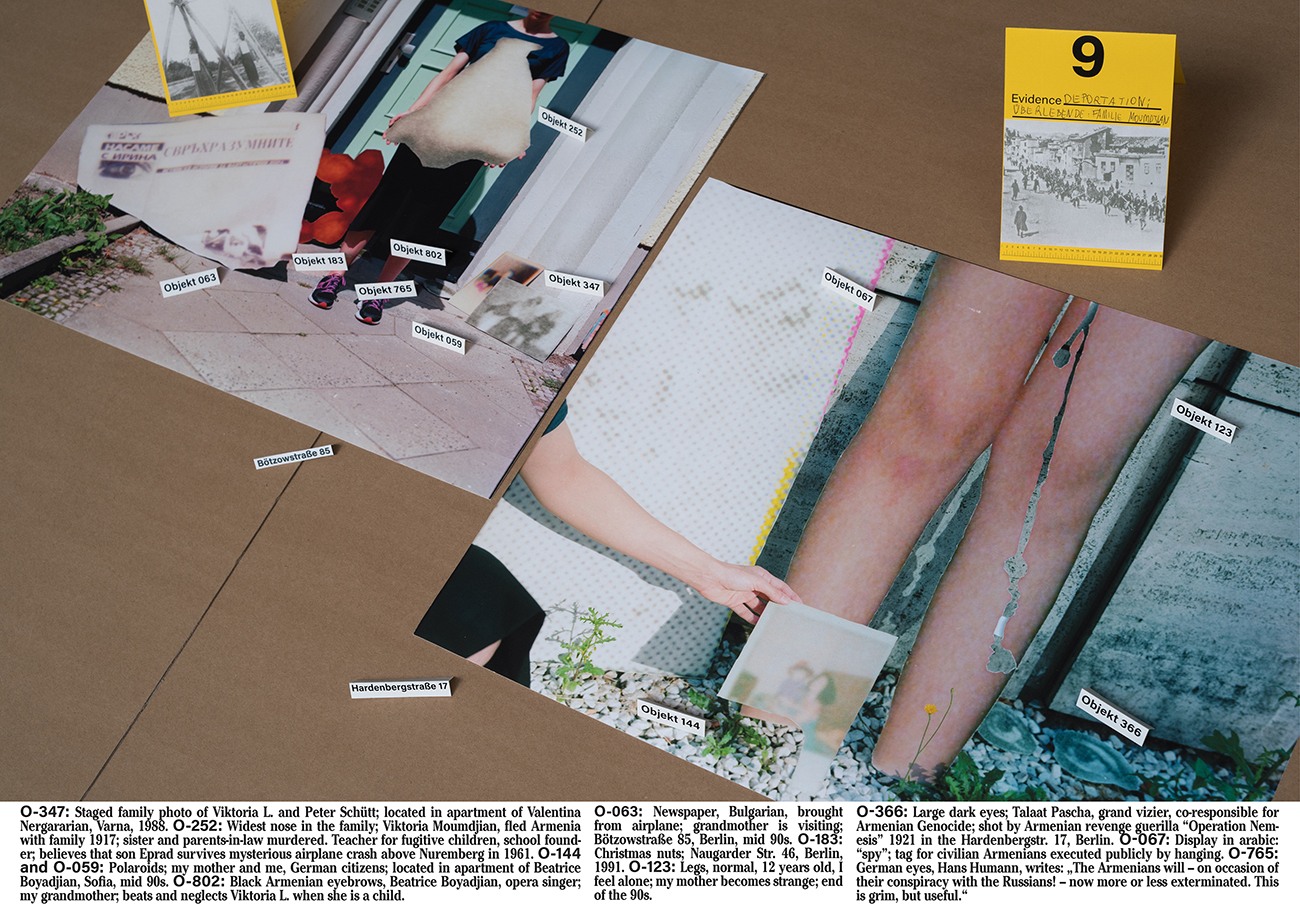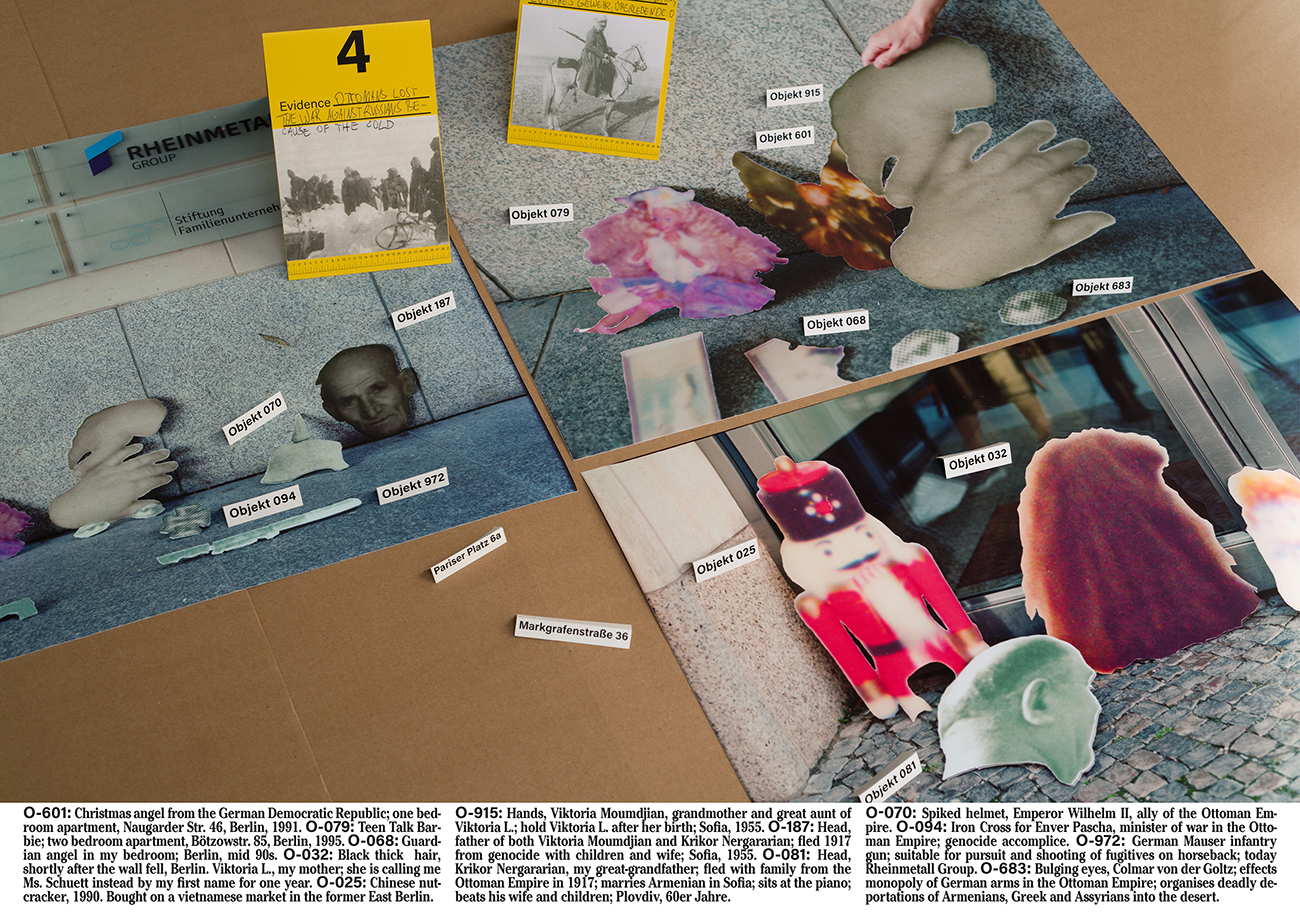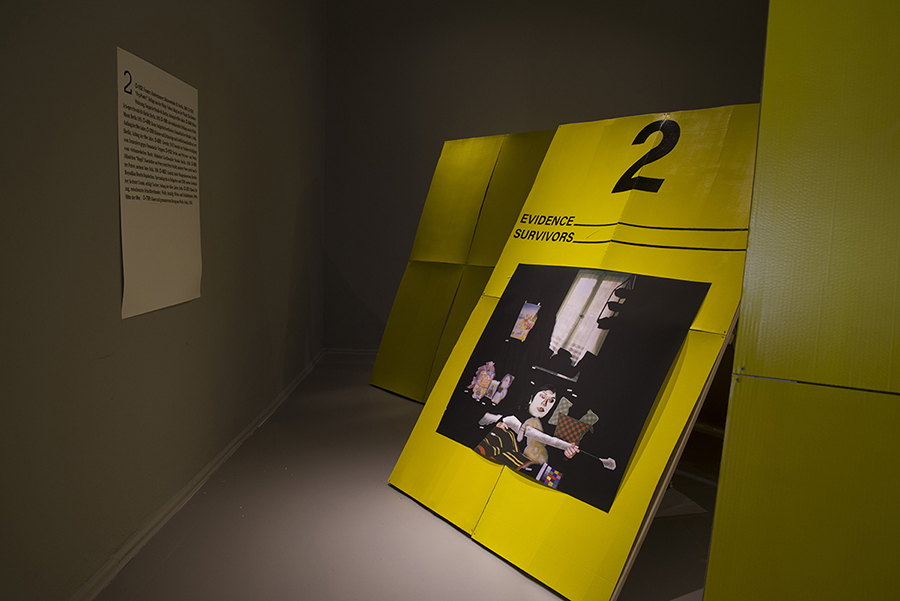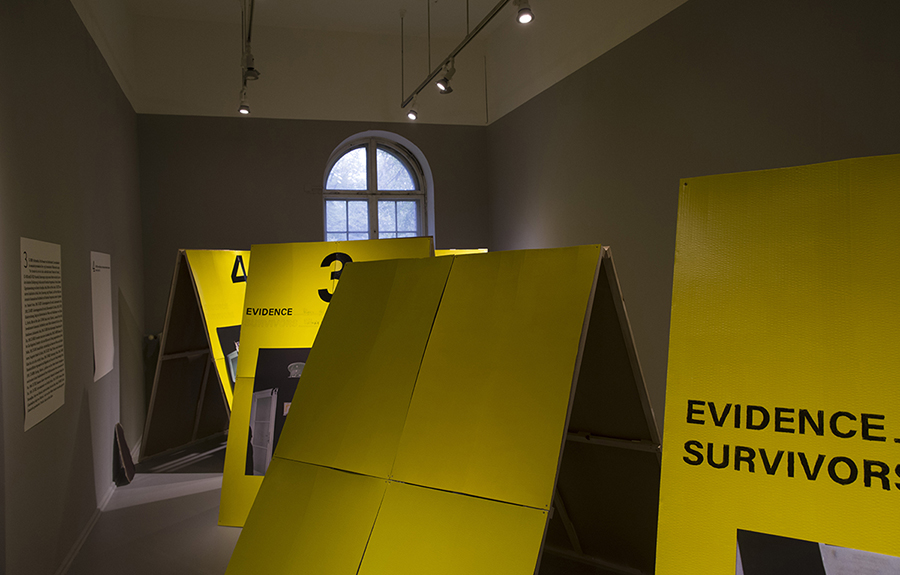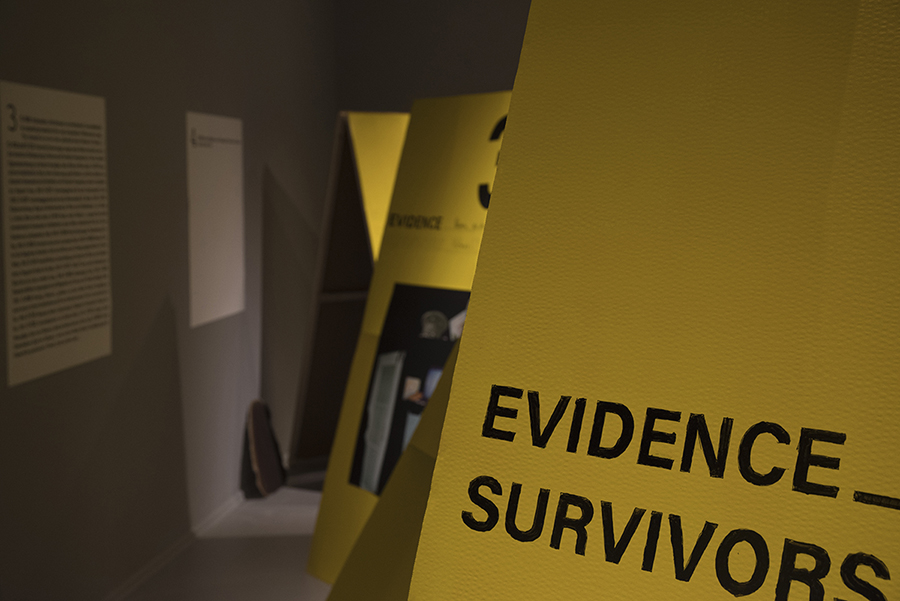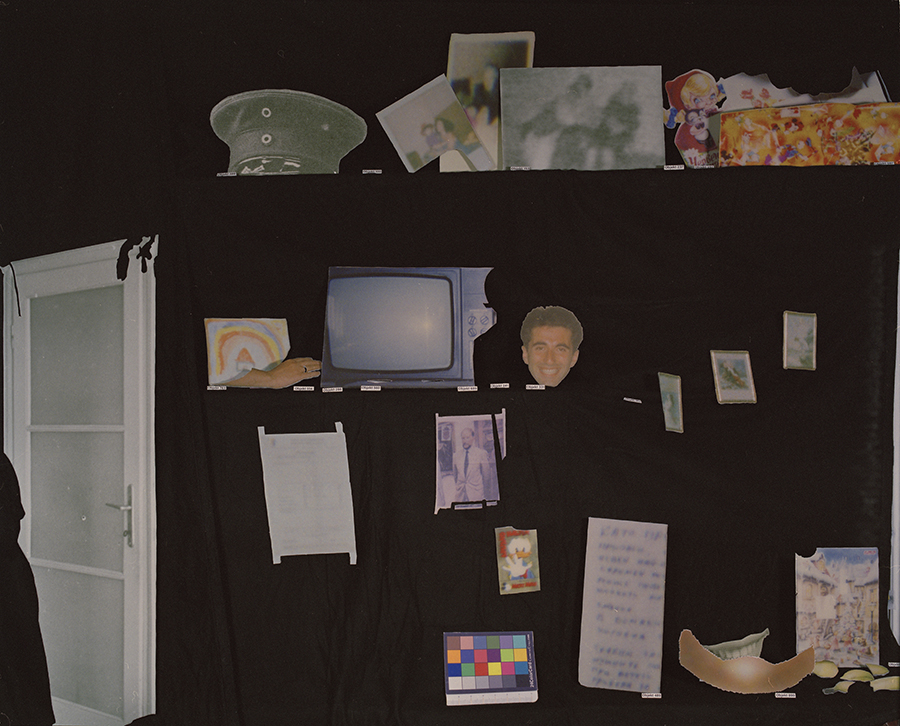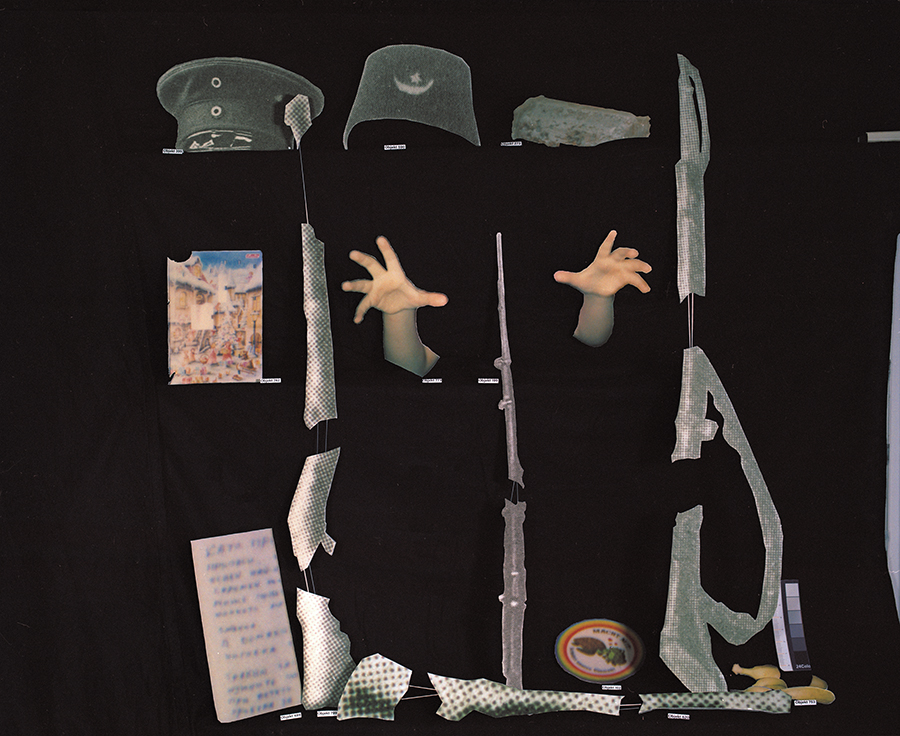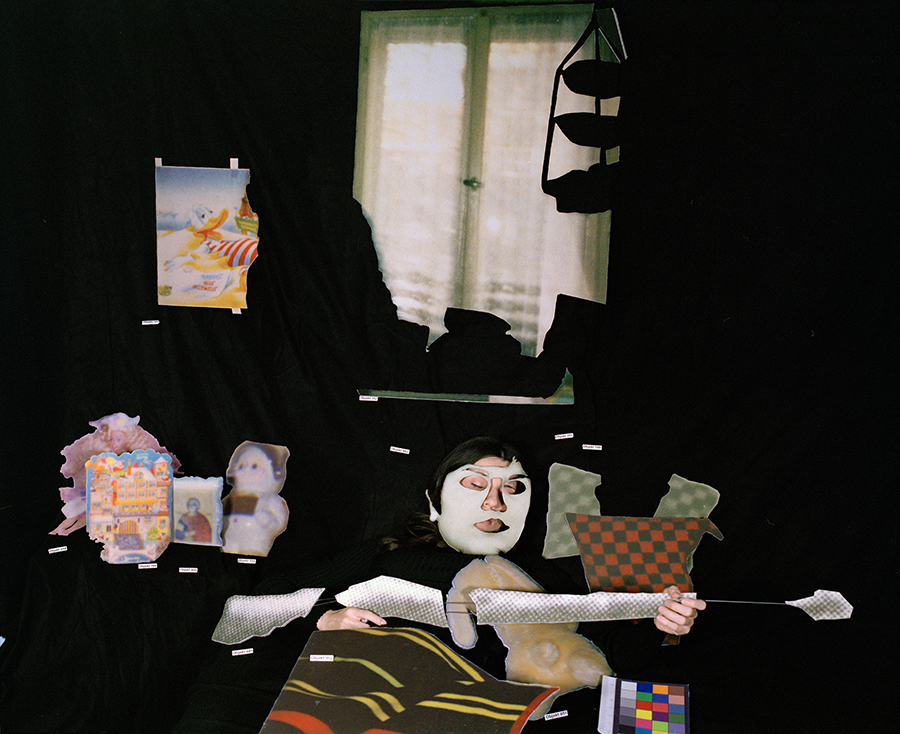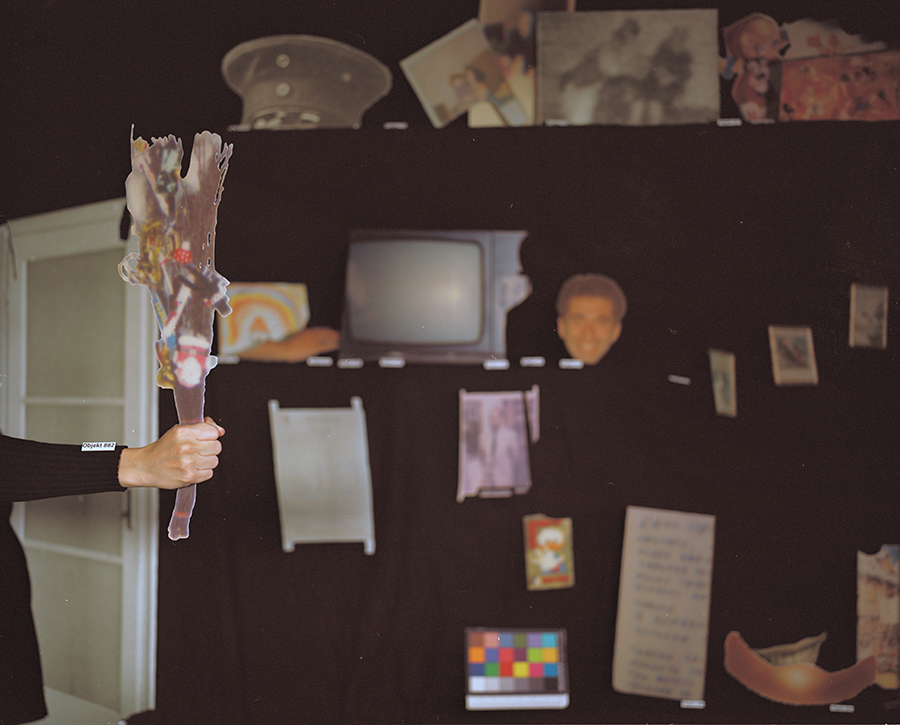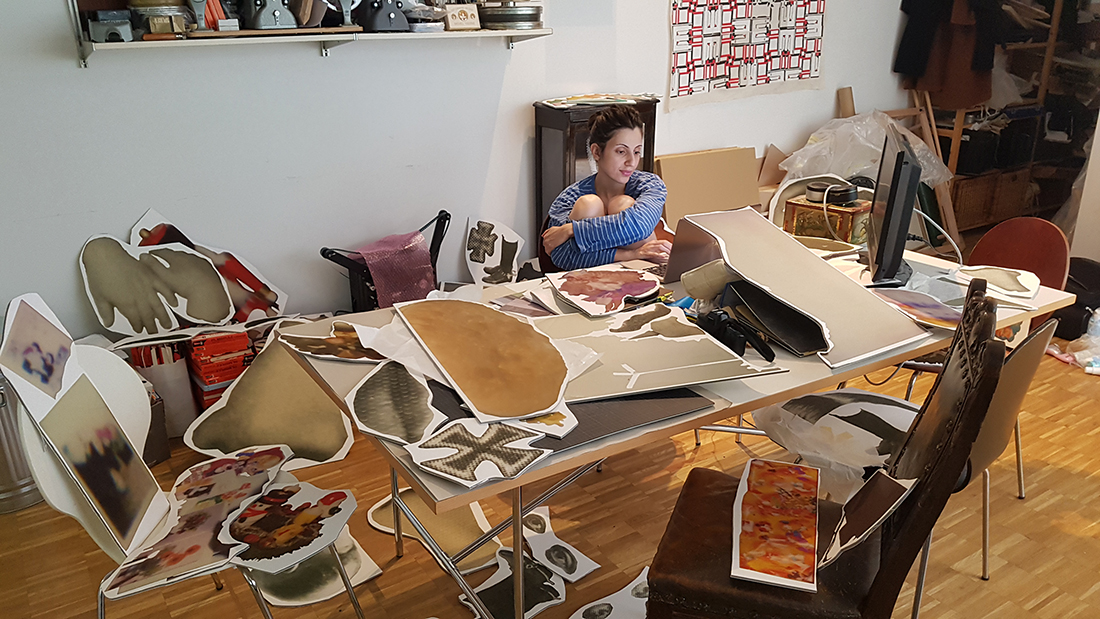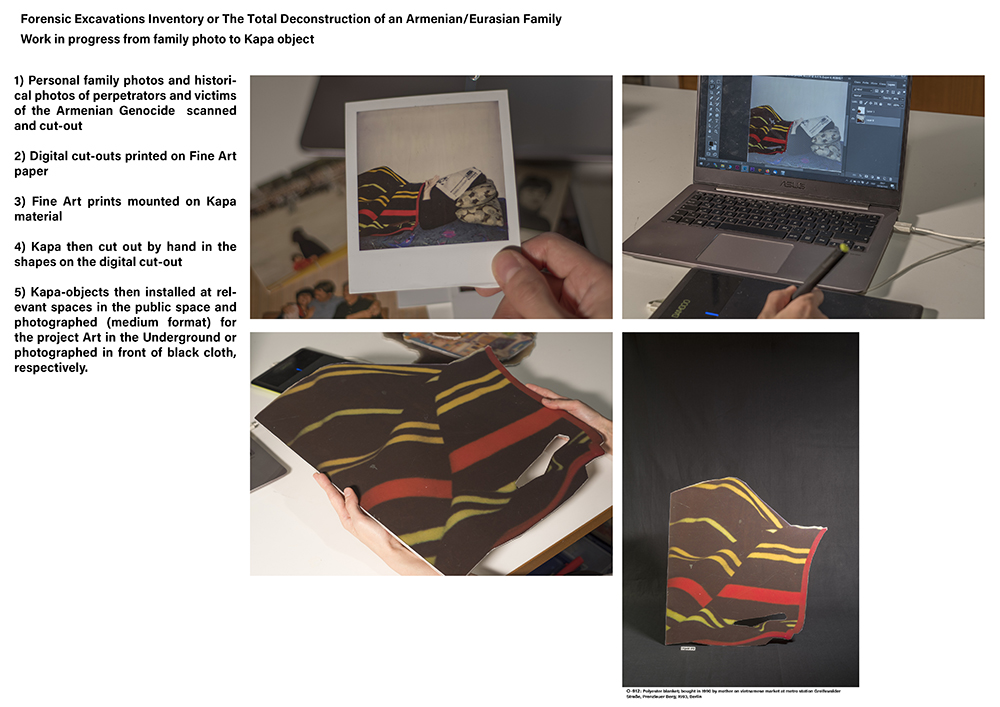 The project Art in the Underground was a site specific installation at the metro station Berlin-Stadtmitte and as one of the winners of the prior contest, the project was commissioned in 2019 by the nGbK Berlin to commemorate arms trade in Berlin. I was invited to create another related spatial installation for the group exhibition Up in Arms, commissioned by the nGbK Berlin and exhibited in the space Kunstraum Kreuzberg/Bethanien in the Fall 2019.
For both projects, I used in addition to the photos from my family photo archive also historical photos of the Armenian genocide. I cut out weaponry and personal effects of the German and Turkish officials who facilitated the genocide. For Art in the Underground, I installed and then photographed the objects in front of specific, politically charged places like the GDR intelligence service Stasi and in front of the gates of the German weapons companies.
Curated by the nGbK Projektgruppe/project group 'Up in Arms': Ayşe Güngör, Cassandra Mehlhorn, Gabriela Seith, Amalie Sølling-Jørgensen, Johanna Werner
Participating artists Up in Arms: LANA ČMAJČANIN, JILL GIBBON, VANESSA GRAVENOR, JOHN HEARTFIELD, SONIA HEDSTRAND, ANA HOFFNER EX-PRVULOVIC, REGINA JOSÉ GALINDO, HIWA K, PETER KENNARD, DANI PLOEGER, WALID RAAD, JULIAN RÖDER, LORENZO SANDOVAL, BEATRICE SCHUETT MOUMDJIAN, HITO STEYERL, ALMA SULJEVIĆ, HADAS TAPOUCHI, CENGIZ TEKIN, CONSTANTINE ZLATEV
Please see further information on the development of Forensic Excavations Inventory in both Deutsch and English, here.
Participating artists Kunst im Untergrund / Art in the Underground: ALEXIS DWORSKY, JOSEFINE GÜNSCHEL, STEPHANIE HANNA, MIRO KAYGALAK, BEATRICE SCHUETT MOUMDJIAN
Further links:
.Art in the Underground/Kunst im Untergrund
.Up in Arms
Prior iterations can be found here.
Exhibition history
2020 Diplom-Rundgang (Graduates Exhibition). Hochschule fuer Grafik und Buchkunst (Academy of Fine Arts). Leipzig, DE
2019 Up in Arms. Kunstraum Kreuzberg/Bethanien and neue Gesellschaft fuer bildende Kunst Berlin nGbK. Berlin, DE
2019 Kunst im Untergrund (Art in the Underground). neue Gesellschaft fuer bildende Kunst Berlin nGbK. Berlin, DE
2018 Cultural Memory in the Present. Gallery of the Academy of Fine Arts. Leipzig, DE (as Beatrice Peter Schuett)
2017 Studienpreis 2017 of the Freundeskreis of the Hochschule fuer Grafik und Buchkunst (Academy of Fine Arts). Gallery of the Academy of Fine Arts. Leipzig, DE catalogue (as Beatrice Schuett)
Awards
2019 Kunst im Untergrund (Art in the Underground) competition winner. neue Gesellschaft fuer bildende Kunst Berlin nGbK. Berlin, DE
2017 Studienpreis 2017 of the Freundeskreis of the Academy of Fine Arts Leipzig. Hochschule fuer Grafik und Buchkunst (Academy of Fine Arts). Leipzig, DE catalogue
Publications
2020 Photoworks UK. The Museum of Modern Loss. Marissa Chen. Brighton, UK
2020 The Opposite of Innocence is Ignorance: Public Art and Political Engagement. Wendy M. K. Shaw. Berlin, DE
2019 Leipziger Volkszeitung. 16.10.2019. Kunst gegen Waffen. Leipzig, DE
2019 Up in Arms. Kunstraum Kreuzberg/Bethanien. neue Gesellschaft fuer bildende Kunst Berlin nGbK. Berlin, DE
2019 Berlin Art Week Magazine. Draft image for Forensic Excavations Inventory 2019 Part 1/Art in the Underground/Kunst im Untergrund 2019. Berlin, DE
2018 Studienpreis 2017 of the Freundeskreis of the Hochschule fuer Grafik und Buchkunst (Academy of Fine Arts). Leipzig, DE (as Beatrice Schuett)
2017 Reports about Studienpreis 2017: Kunstforum International, 19.12.2017; Kunstmarkt.com; Leipziger Volkszeitung, 16.11.2017 (as Beatrice Schuett)